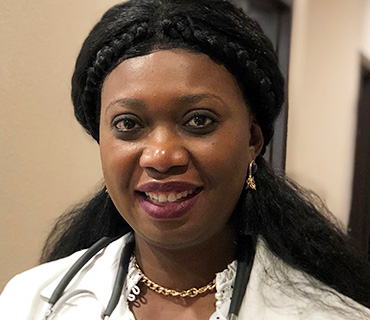 Clinical
Focus

Annual Wellness Visits
Orthopedics
Neurology
Diakhomba Diaby, AG-NP
Board Certified Gerontology Nurse Practitioner
Diakhomba Diaby has experience in numerous areas of medicine and over 9 years experience with Internal Medicine.
She received her BSN in Nursing in 2007 from Texas Women's University. She has worked for major hospitals in the Dallas Forth Worth area such as Parkland, UT Southwestern and Baylor. She completed her Masters Degree at Walden in 2017 and has been working at Tapia Internal Medicine Clinic, PLLC since then seeing patients 18 and older.
Diakhomba Diaby is a very compassionate and caring provider who is an integral part of our team here at Tapia Internal Medicine Clinic, PLLC.
Also, Diakhomba was born and raised in Senegal in West Africa. She has a passion for taking care of people which lead her to her nursing career. She enjoys spending time with family, going to the movies and just staying home to relax and watch some TV.
Associate Degree in Science, Dallas County Community Colleges – 2003-2005
Bachelor in Science of Nursing, Texas Woman's University – 2005-2007
Advanced Practice Registered Nurse, Walden University – 2015-2017