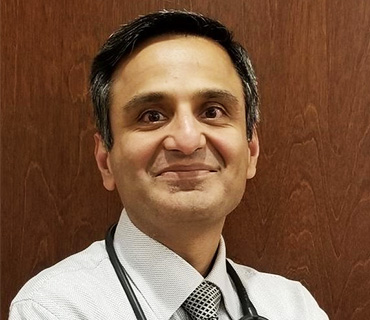 Clinical
Focus

Geriatric Care
Office Procedures
Diabetes Care
Dr. Ashfaq Tapia, MD
Board Certified in Internal Medicine
Dr. Tapia has 15+ years of experience in Internal Medicine and sees patients 18 and above in their clinic in Paris, Texas.
He received his medical degree from the University of Mumbai in 1997. He went on to complete his training in General Surgery in 2000 and was awarded the M.S. degree. He completed his Internal Medicine Internship and Residency at Rochester General Hospital in Rochester, New York in 2008.
He is well known in Paris as a compassionate and competent physician- and routinely deals with patients with multiple complex medical problems.
On a personal note Dr. Tapia was born and raised in Mumbai, India. He is very proficient in the field of information technology and uses it to constantly modernize his practice of medicine. He also enjoys a wide variety of cuisines and music.
Bachelor of Medicine, Bachelor of Surgery (MB BS), University of Mumbai – 1997
M.S. General Surgery – University of Mumbai – 2000
Medical Degree – Internal Medicine – Rochester, New York – 2008
Active Community Privileges
Paris Regional Medical Center – Paris, Texas
Baylor Scott & White – McKinney, Texas